Meet The Car Trash Bag Garbage Can for Little Leakproof with Lid & Storage Pocket. Condition is "New". Shipped with USPS First Class.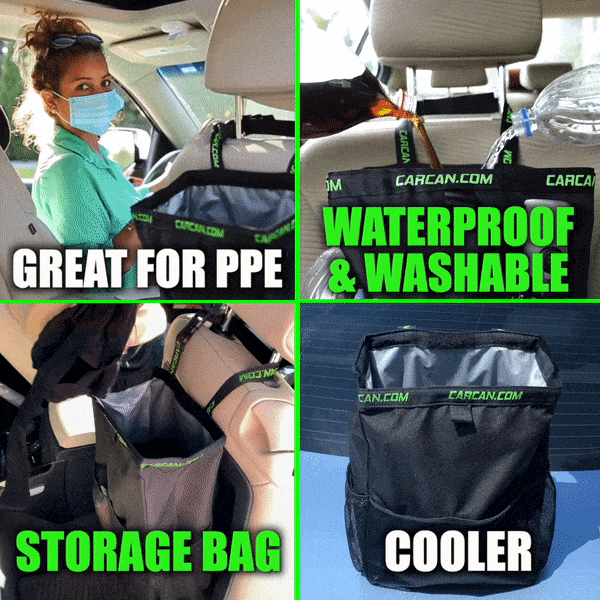 FEATURES
Great quality of oxford cloth makes it durable.
Hanging anywhere and install with adjustable strap and splice buckle.
The inside of the car trash bin has a waterproof lining which is leak-proof, easy to keep your automobile clean and dry.
Two extra sides mesh pockets and front fabric pocket are a perfect design that easily to store tissues,sanitizer,and other miscellaneous items.
With rubber opening lid and velcro seal which is closeable and soft that you can take items without lifting the lid, very convenient and practical.
Our car garbage bag doesn't take up too much room but it 's foldable and portable for traveling.Large capacity that you can use it as a storage bag for kids toys,drinks and as well as a travel cooler that can keep drink and snacks cold for a long time.
1. Is there rubbish everywhere in the car?
2. There is not enough room for personal item.
3. Throw rubbish out if the window.
1. Clean
2. Tidy
3. Safety
For True Patriots
The strongest weapon in the United States is a patriotic American. We make clothing for those who are proud to stand united with our brothers and sisters who defend this great country.
Proudly Made
Printed, packaged and shipped in the USA by an American workforce! We believe in providing you wit premium quality products as that represents everything this country stands for.
American Quality
Your satisfaction is our priority! As our glorious nation, the inks printed on our garments resist the threats of fading from the sun and time. You'll have comfort, fit, and looks that last.
Tactical Designs
Your clothing says a lot about you. Let your beliefs shine with our designs that say you are a true patriot! Just wearing our powerful printed products can will show off your bold American pride!
HELP US GIVE BACK TO THE PTSD FOUNDATION OF AMERICA!
We proudly donate a portion of every single clothing purchase to our favorite charity, the PTSD Foundation which aids our active duty military and veterans across all branches: Army, Navy, Air Force, Marines, and Coast Guard. Support our troops. Do your part in providing hope and healing for the unseen wounds of war..